Researchers from McGill University were involved in a large-scale North American study this winter, which spread out across the Saint-Laurent valley in southern Quebec and Champlain Valley in Vermont (USA). What exactly brought all these scientists here? Freezing rain, sleet, and snowstorms. Phenomena we are pretty familiar with in Quebec. The first of its kind in several decades, this study aims to better understand the transitions between these types of winter precipitations, which occur when temperatures are close to 0°C. This knowledge could also help meteorologists make better predictions.
For six weeks in February and March, scientists from five universities and several governmental organizations spent days and nights waiting for what we consider bad weather. Whenever weather forecasts encouraged citizens to stay at home and avoid dangerous road conditions, the meteorologists involved in the WINTRE-MIX project instead went out into the storm to start taking measurements. One of the tools they had at their disposition was a fleet of four deployable weather radars. Normally used to study extreme weather events like tornadoes, these radars had never been on Canadian soil before. The various facilities of the Gault Nature Reserve were able to be used as part of this major project.
Another tool at the scientists' disposal was a network of weather stations deployed north and south of the Canada-USA border. With these stations, they were able to take measurements simultaneously across a large territory. One of these weather stations is located at the Gault Nature Reserve, near the new Adaptable Earth Observation System (AEOS) laboratory.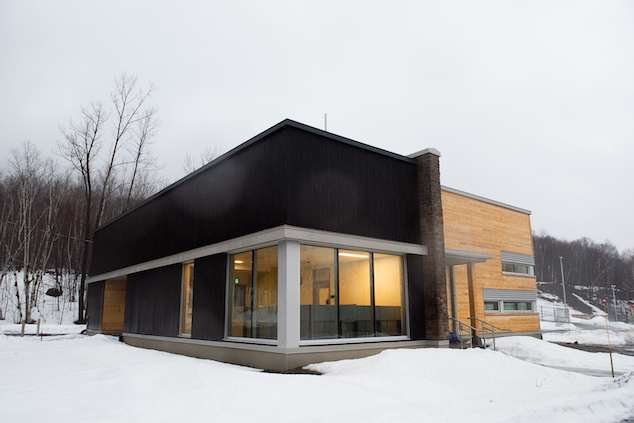 The new Adaptable Earth Observation System (AEOS) laboratory located at the Gault Nature Reserve (photo: Alex Tran)
On a rainy winter night in February, we meet with Juliann Wray and Karel Veilleux, Master's students in Atmospheric and Oceanic Sciences at McGill and UQAM respectively. Their task for the night: launching a meteorological sounding system every hour until the end of the precipitations. These launches must be coordinated with scientists at the other stations across Quebec and Vermont, so that they all happen at the exact same time.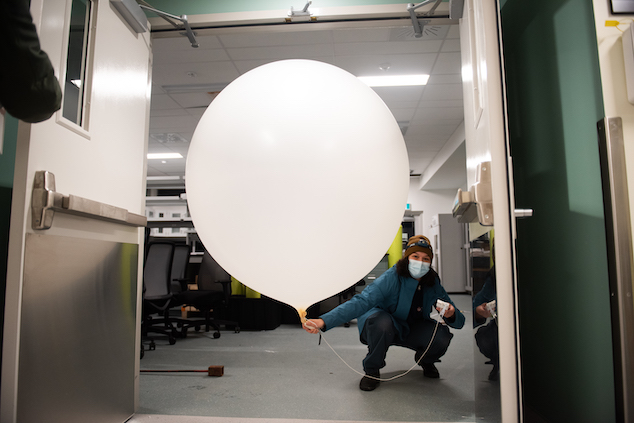 A surprisingly challenging step was getting the enormous helium balloon attached to the sounding system out of the laboratory doors, as demonstrated here by Juliann Wray (photo: Alex Tran)
At 6 PM sharp, Karel and Juliann are ready to launch their first sounding system of the night. In a few seconds, the helium balloon it is attached to is out of sight. The scientists immediately run back to their computer to see if it the launch has worked properly. Quickly, we see the data pouring in along with messages from all the other scientists who just did the same thing in their area.
Collaboration between scientists at this scale is quite impressive to see. We are certainly looking forward to seeing what knowledge the WINTRE-MIX project will produce.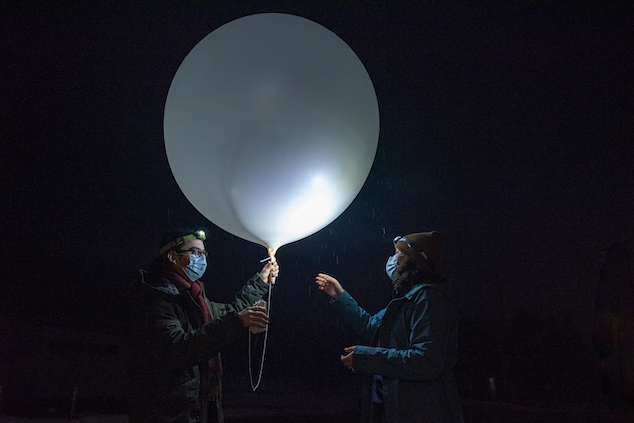 Karel Veilleux (left) and Juliann Wray (right) are ready to launch their first sounding system of the night (photo: Alex Tran)
About the researchers
The WINTRE-MIX project is led by American researchers from University of Albany (Dr. Justin Minder and Dr. Nick Bassill), University of Wyoming (Dr. Jeffrey R. French and Dr. David Kingsmill), University of Colorado (Dr. Katja Friedrich, Dr. Andrew Winters), and the National Research Council (Dr. Leonid Nichman, Dr. Cuong Nguyen).
They collaborated with local scientists Dr. John Gyakum, Dr. Frédéric Fabry and Dr. Daniel Kirshbaum from the Atmospheric and Oceanic Sciences department of McGill University and Dr. Julie M. Thériault from UQAM (Université du Québec à Montréal).
Learn more about the WINTRE-MIX project by visiting their website or follow them on Twitter to get updates.
Frédérique Truchon
Communications Associate
Gault Nature Reserve of McGill University
Header: One of the deployable weather radars used in the WINTRE-MIX study in a field in Saint-Pie (photo: Alex Tran)