July 5th 2022
Notes from the Field
The 2022 field season is in full swing, and the Reserve is full of researchers and students again, which is great to see after the last few years. A few weeks ago, three McGill students also joined our ranks for the summer as Field Operations Assistants. Already, their internship has kept them busy with diverse tasks, including invasive plant control, participation in our long-term trillium monitoring project and collecting data from our "HOBO" data logging stations that are dispersed throughout Mont Saint-Hilaire.
Meet our summer interns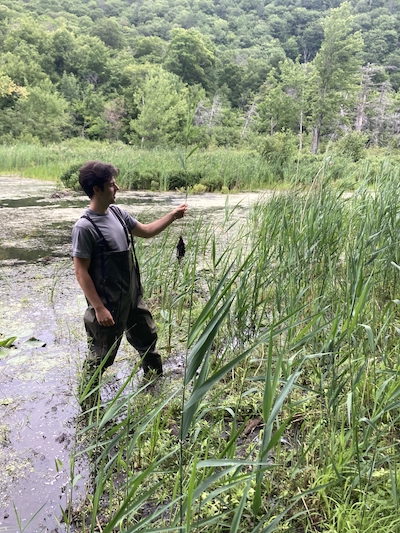 Kevin removes phragmites (Phragmites australis) from the shore of Lac Hertel (photo: Nora Bartram-Forbes)
Hi, my name is Kevin Alexander. I recently graduated with a Bachelor of Science in Environment at McGill University. I am excited about this internship opportunity to explore my research and science communication interests. So far, I have enjoyed learning about the many research projects that are taking place at the Reserve. I have also enjoyed developing efficient protocols for removing and controlling invasive plants, such as invasive phragmites (Phragmites australis) and garlic mustard (Alliaria petiolata). These protocols will help future interns continue this essential work year after year.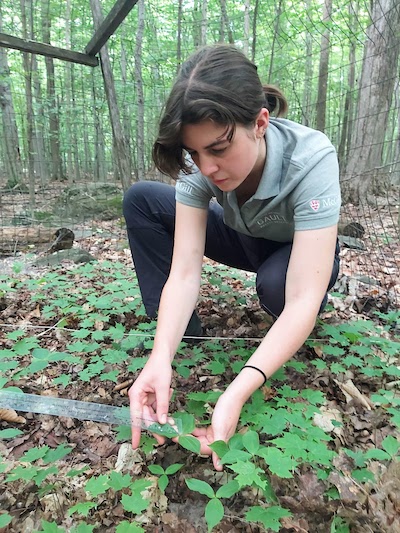 Nora measures the leaf of a white trillium (Trillium grandiflorum) in a deer exclosure (photo: Kevin Alexander)
My name is Nora Bartram-Forbes. I am a Biology student with a minor in Environment, entering my third year at McGill. I look forward to spending the summer here at Gault learning about this protected area. So far, I have enjoyed measuring trillium plant growth inside and outside deer exclosures, which are small fenced-off areas on the mountain used in a long-term research project at the Reserve. These exclosures help the Reserve estimate the deer population's effects on the forest's understory. I also enjoy spotting all the cool plants, animals, and fungi around the mountain.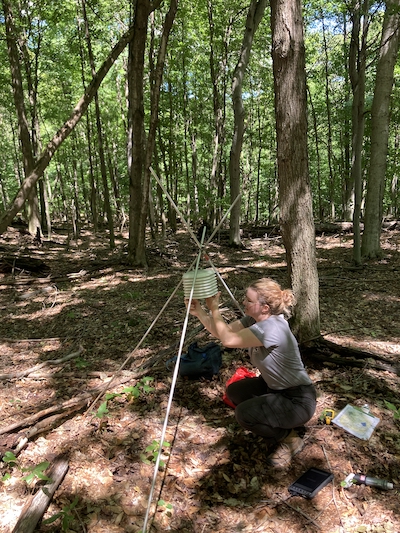 Savannah takes apart the protective cage to access the HOBO data logger and download its data (photo: Nora Bartram-Forbes)
Hello! My name is Savannah Bissegger O'Connor. I am a final year Biology student at McGill University with minor concentrations in Entrepreneurship and Geographic Information Systems (GIS) and Remote Sensing. I grew up and currently reside in Otterburn Park, the bordering town of Mont-Saint-Hilaire, which means the mountain and its mission are very important to me. This summer, I will be returning to work at the Gault Nature Reserve for my second season. These past few weeks, we have been working on collecting and downloading ground temperature data from the various "HOBO" data logging stations that are scattered on Mont Saint-Hilaire. Using a map and GPS, we embark on a treasure hunt in search of these temperature sensors. When found, we inspect the structures for any signs of damage, then repair them if needed. Then, we download the data that has been collecting in the logger onto a tablet, and start the sensor again for another year of data collection.
Concurrently, I will be working on an independent research project to estimate the scale of the overpopulation of white-tailed deer at the Gault Nature Reserve using a drone equipped with a thermal camera.
Want to know more?
Header - From left to right: Nora Bartram-Forbes, Savannah Bissegger-O'Connor, and Kevin Alexander (photo : Alex Tran)