August 4th 2022
Behind the Scenes With Our Photographer Alex Tran
Whenever the Gault Nature Reserve sends me on a photo assignment, I'm always excited. It gives me an excuse to go hiking in nature, photograph wildlife, and meet interesting scientists—things that I never get tired of doing. The mountain is a magical place for me and it has held a special place in my heart ever since I discovered it for the first time over 10 years ago.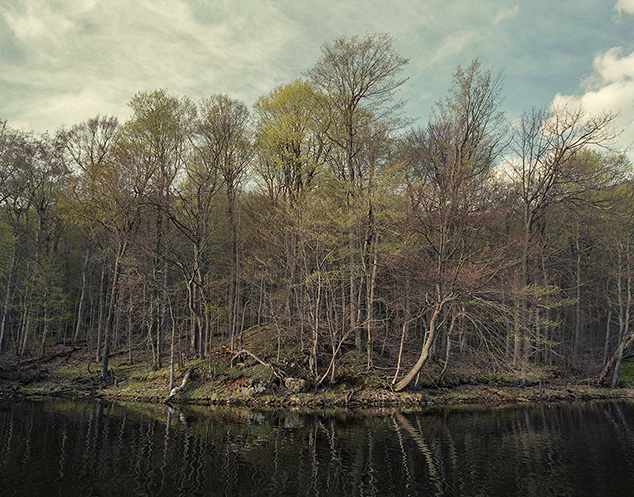 Photo: Alex Tran
Discovering the Gault Nature Reserve
Before my career in photography, I was studying biology at McGill University. I signed up to as many field courses as I could because I wanted the hands-on experiences that the university offered. It's during one of these field courses that I discovered the Gault Nature Reserve for the first time.
During this field course, we spent two intensive weeks on the mountain, learning how to design research experiments, catching mice and ticks, and studying aquatic plants in Lac Hertel. We also got to know our professors, many of which we had only seen far away across an auditorium. The entire experience of this field course was incredibly formative for me as a young biology student. Although I didn't realize it at the time, it was also a formative experience for me as a photographer.
Like many aspiring biologists, I was fascinated by animal behaviour, ecology, and evolution. Naturally, I carried a camera with me everywhere I went during this course. My camera became a way to channel my curiosity for people and for the natural world.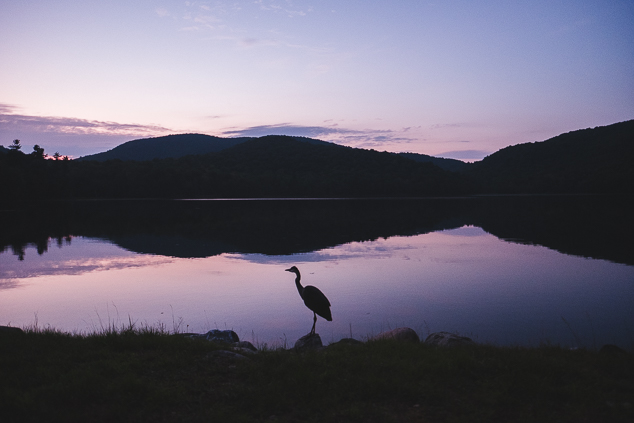 Photo: Alex Tran
Photography as a tool for science communication
When I graduated, my career took an unexpected turn as I pursued photography full time. For many years, most of my photography work was unrelated to biology. I saw myself merely as a photographer with an unrelated background in science. Today, I see my background in biology as a core part of my photography. I document the world around me both from the point of view of photographer and scientist. In my spare time, I'm exploring the intersection of art and science, often collaborating with scientists.
My personal mission is to get people more interested in nature and science. Whenever I receive assignments from the Gault Nature Reserve, I jump at the opportunity to contribute to science communication via my images. I hope that my awe for nature and science is translated in my photographs. Whenever I'm out taking photos at the Mont St-Hilaire, I'm still the young curious biology student.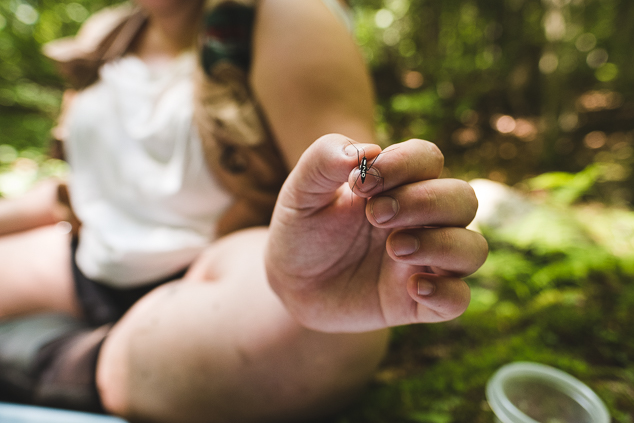 Researcher Daphné Bourget shows one of the water striders used in her study (photo: Alex Tran)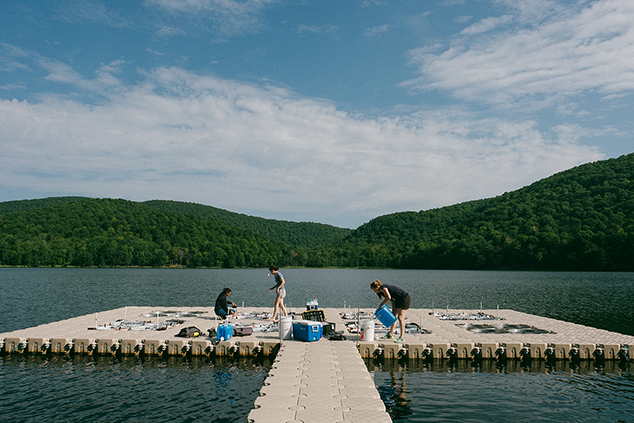 Researchers sampling on the Lac Hertel mesocosms (photo: Alex Tran)

Researchers at LEAP investigate one of the ponds (photo: Alex Tran
Want to know more?
Follow Alex on Instagram or visit his website to see how he bridges art and science.
Header: Alex Tran (photo: Frédérique Truchon)