July 5th 2022
Summer Interns Step up to Protect the Common Snapping Turtle
The common snapping turtle (Chelydra serpentina) is one of two species of turtle that live in the Gault Nature Reserve. In Canada, the turtle is designated as a Special Concern species, which means that it may become threatened or endangered because of a combination of threats. One of these threats is nest destruction and predation. Every year, conservationists swing into action to protect turtle nests on the shores of Lac Hertel.
McGill students play an important part in these efforts. Yet again this summer, students from the McGill Faculty of Science contributed to the conservation and protection of species such as the common snapping turtle, gaining valuable field experience in the process.
Looking for nests to protect
"Every morning, we walk around the shores of Lac Hertel looking for signs that a turtle has laid eggs," says Savannah Bissegger O'Connor, undergraduate student in biology and intern at the Reserve. "When we discover a nest, we put up a protective cage and signage to alert hikers."
The common snapping turtle's mating season lasts from early to mid summer. Females usually look for nesting sites in sandy or gravelly areas. This makes the Lac Hertel beach a very suitable nesting area. After two to three months of incubation, the hatchlings emerge and instinctively head to the water. You can see the phenomenon in this video taken in 2017 by employees of the Nature Centre at Lac Hertel.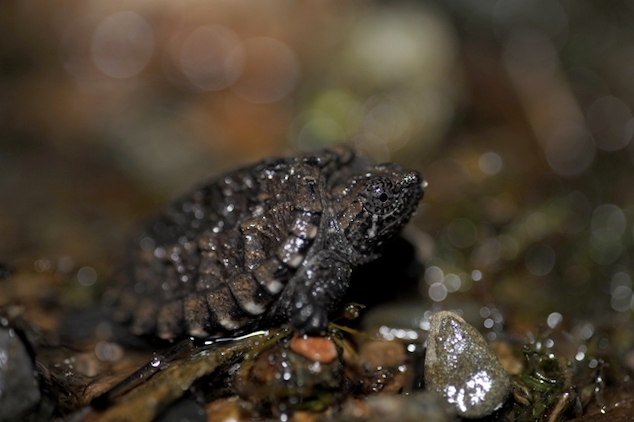 A snapping turtle instinctively heads toward the water after hatching (photo: Andrew Hendry)
A sizeable species
The common snapping turtle is one of the largest freshwater turtles in Canada, reaching 36 cm in length and weighing up to 16 kg. It has a large, brown black shell and a long tail covered in triangular spikes. Lac Hertel, with its shallow waters and muddy bottom, is an ideal habitat for these turtles. Although they spend most of their time in the water, you might catch a glimpse of them in summer on the shores of the lake, basking in the sun on a rock or tree trunk.
Header : Photo by Alex Tran