From 1958 to 1968, following the recommendations in the Hare Report, the Gault Nature Reserve was used for teaching and research by various departments of the University and also continued to be used by local residents and the general public.
In 1960, the mountain was designated a migratory bird sanctuary.
In 1970, McGill University commissioned the Audubon Society to conduct a detailed study of the mountain. The principal recommendations were to separate the Reserve into three separate management sectors to continue protecting the mountain from abuses associated with inappropriate use by people.
In 1972, Alice Johannsen, the director of what was then called the Gault Estate, founded the Mont Saint-Hilaire Nature Conservation Centre, a non-profit organization devoted to conservation and education.
In 1977, the Gault Estate board of directors developed a master plan emphasizing the property's dual nature. The Estate was to be used for university teaching and research and to provide access for the general public.
In 1978, the Gault Estate was designated the first Canadian Biosphere Reserve as part of UNESCO's Man and the Biosphere Program.
In 1995, management of the Gault Estate was separated from the Nature Centre.
In 2000, the Gault Estate was officially renamed the Gault Nature Reserve to better reflect the conservation mission of this McGill University property.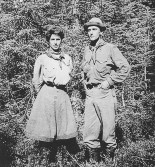 Brigadier Gault in the forest.